Since the turn of the last century provenance research has developed and become professionalized in Europe and the United States as a field that enquires into the ownership history of art and cultural assets during the National Socialist period. International news coverage brought further attention to the subject. The objective is the reconstruction of object biographies and translocation processes, in order to identify Nazi-looted cultural objects and to be able "to achieve just and fair solutions" with the original owners or their heirs. Supported by state funding, provenance research is primarily undertaken at museums, libraries, archives and non-university research institutes. While for considerable time the field received little acknowledgement by university faculties such as art history and historical science, provenance research is now in the process of becoming – at least for the moment – institutionalized as a research focus area at several universities in Germany and Switzerland. It remains to be seen which direction provenance research will ultimately take as an academic field; however, an expansion above and beyond the NS-period as well as a connection with neighbouring research fields such as art market research are evidently being pursued.
Long before the efforts to explore the transfer of art works during the Nazi period, the art world considered the biography of art works highly relevant. Since at least the eighteenth century, provenance played an important role in prosperous European market centres, supporting the orientation of collectors as well as the valuation of art. Backed by a culture of individualization at the time, an art critical discourse developed which took critics' individual experiences and emotions as a benchmark, rather than normative academic art theory "in order to subjectivize formerly generally accepted standards". Art criticism now focused on the novel platform of art exhibitions publicity and became institutionalized in the nineteenth century in art magazines and the arts pages of major newspapers, discovering "both interpretative and creative subjectivity in parallel". Legally, this development led to the emergence of modern copyright laws in Europe from the eighteenth century onwards. Authenticity of art objects and individual evaluations of quality now took centre stage in determining the aesthetic and artistic merit of works of visual art. Provenance signalled two main factors: if an art work had been in a prestigious collection or exhibition, this was an indication of authenticity as well as elevated aesthetic quality. Both had a significant influence on economic value. The biography of an art work was thus closely connected to the art market, which was in the process of detaching itself from the constraints of the guilds and the courts, creating international networks mainly in the nineteenth century. In this context, catalogue raisonnés and sale catalogues were presented in an increasingly professional manner, listing information about artists, art works and provenance as a matter of course (Figure 1 and 2). These became major sources of information for the actors of the art world. It became a generally accepted fact that a renowned provenance held potential for an increase in value. As part of this development, the contemporary term of "connoisseurship" gained in importance – the ability to attribute artefacts to a school or an artist, based on one's knowledge and the ownership history of the works. Although academic art history, which had spread across European universities during the nineteenth century, regarded "connoisseurs" as ancillary experts, they succeeded outside of academic institutions. Writing expertise reports confirming the authenticity of an artwork developed into a lucrative business within the art market, an industry designed to reassure dealers and collectors. In this context, the history of an artwork is primarily a factor for its aesthetic, artistic and economic value, whereas Nazi-era provenance research is much more concerned with the circumstances that lead to the transfer of art works, and with the moral and political context. However, it certainly retains its relevance for the economic evaluation of art objects.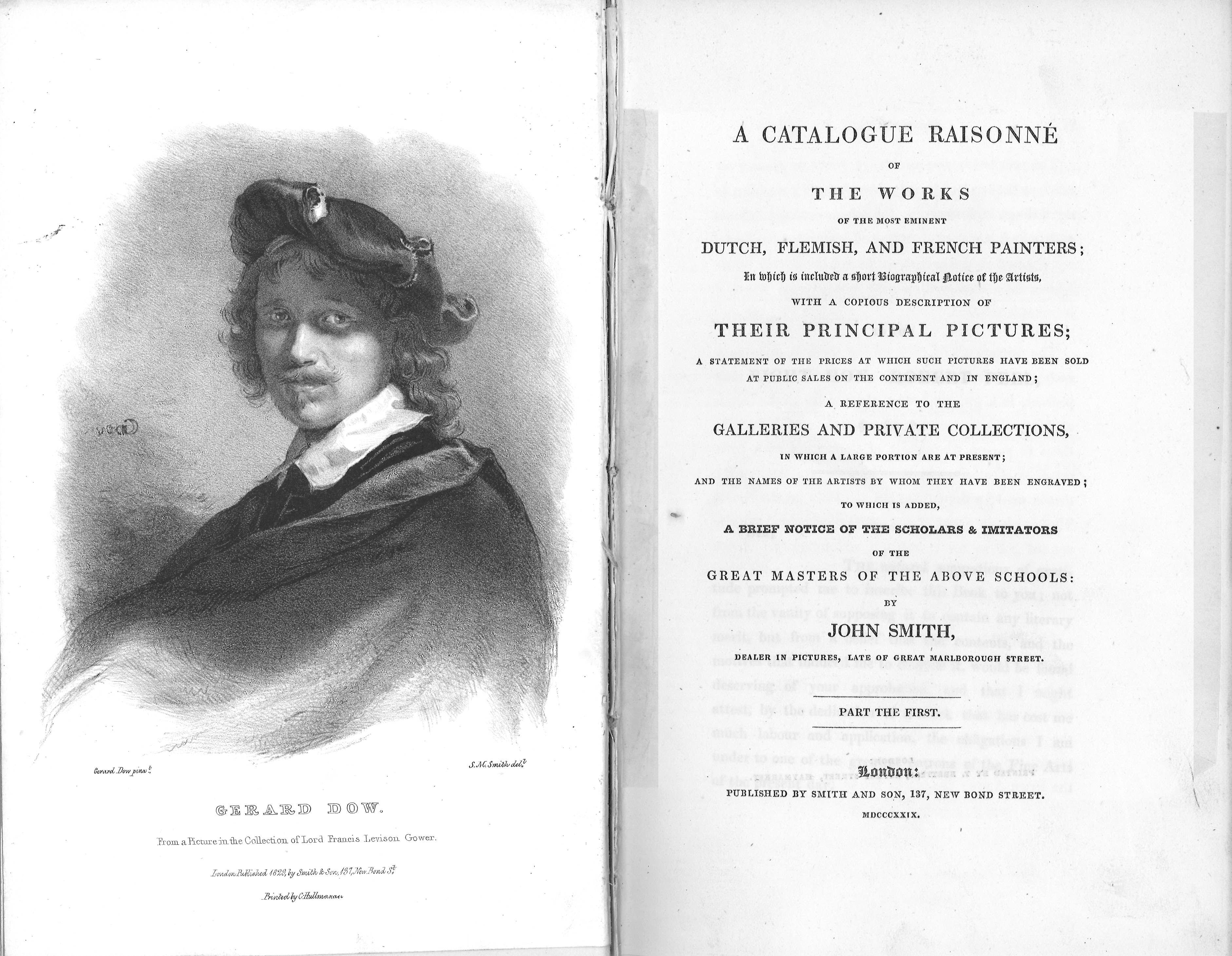 Fig. 1: John Smith provides in his Catalogue Raisonné of Dutch, Flemish, and French painters (here Volume 1, London 1829), among other things, ...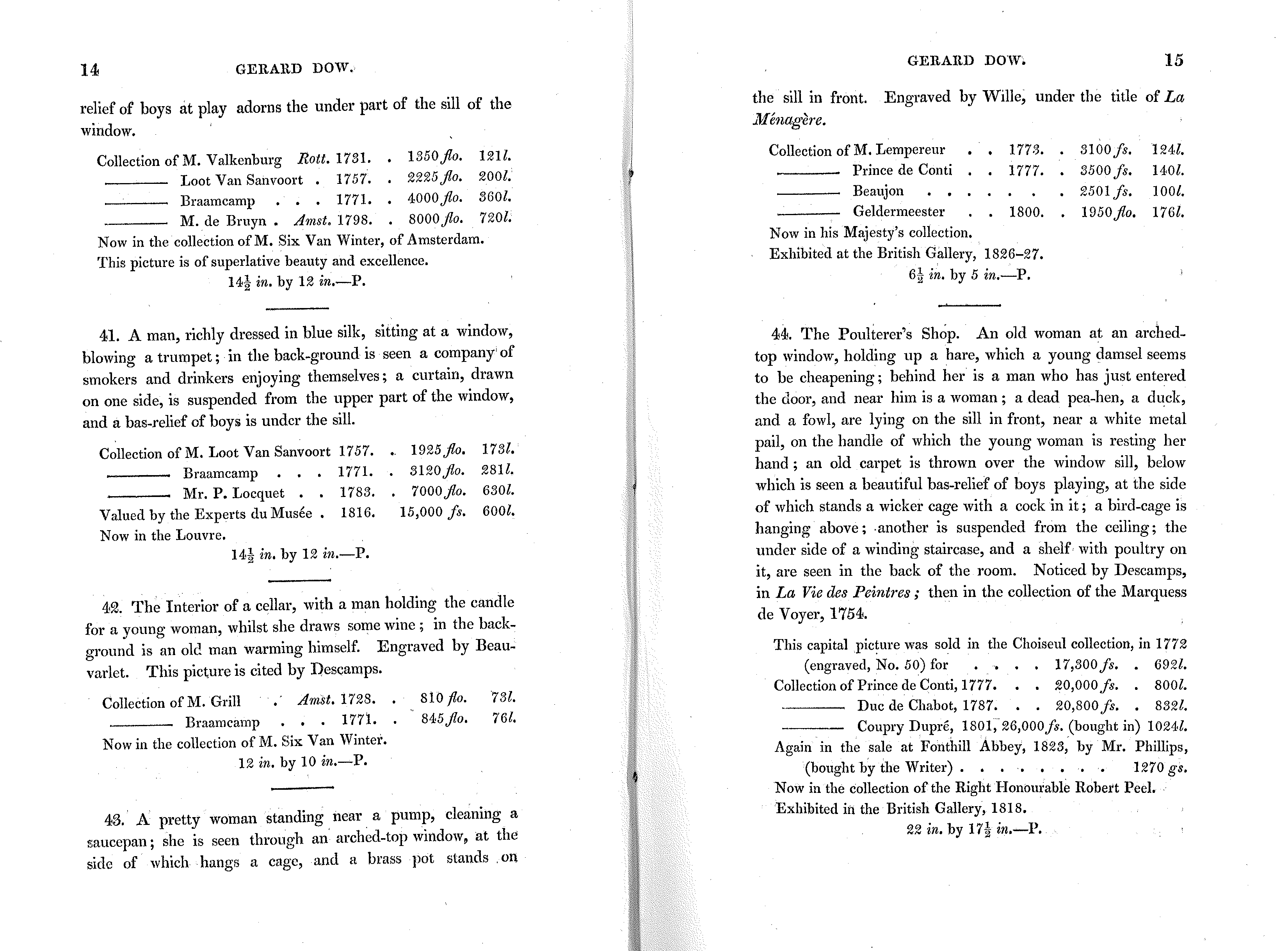 Fig. 2: ... informations on economic values and provenances. Smith's catalogs are seen as landmark in the development of academic forms of art research in the first half of the nineteenth century. Both photographs courtesy of J.Gramlich.
The Emergence and Function of Nazi-era Provenance Research
In December 1984 the American art magazine ARTnews published the article "A legacy of Shame". Its author Andrew Decker accused Austria of treating National Socialist "looted art" with negligence and a lack of commitment. After the end of World War II, the majority of those works of art recovered from high-ranking Nazi officials which had initially been placed in Austrian storage facilities were later consigned to the Austrian Republic. Austria subsequently restituted only part of these works to their original owners. This was the starting point for a series of articles in which ARTnews also reminded Germany of its obligations. In 1988 the magazine reported that German museums and diplomatic missions were holding over 1,500 objects from the collections of Adolf Hitler and Hermann Göring that had been stolen from their previous Jewish owners or had been acquired under pressure. In this context the publisher Milton Esterow even wrote an open letter to the German Chancellor at the time, Helmut Kohl, calling for an investigation into artworks in public collections that had been seized by the Nazis.
Beyond Germany and Austria, "looted art and restitution" became an international issue. In connection with the so-called "external restitution", the American Allies in particular had returned art works to several European states that had been brought into the German Reich after 1938, when the Nazi sphere of influence had expanded. Hence both the American and European press continued to argue that the post-War restitution efforts by these states had been insufficient and needed to resume. In Germany the same criticism was directed towards "internal restitution" during the post-war period in particular. Extensive documentation and research results that were accumulated during the Allies' investigation into the National Socialist art theft and became available in archives during the 1970s, supported the newfound interest in the so-called Nazi war loot. On the basis of these sources, comprehensive research from the 1980s onwards reconstructed the transfer of artefacts in regions under German occupancy during the Second World War. These studies could both rely on and increase the growing public interest in the subject.
The rising media attention led to political debate, which also became public. In Austria this was already the case after the 1984 article. Furthermore, the reunification of Germany and the fall of the "Iron Curtain" marked a starting point for political discussion. Compensation and restitution issues, that had been partly postponed in the 1950s, now returned to the political agenda and went beyond the restitution of artworks, which still occupied a prominent place in the coverage. In addition, in the Soviet occupation zone and in the GDR no increased efforts had been made to reconstitute private ownership by restituting assets confiscated during Nazi persecution. There was now an increased political necessity to re-address the subject of compensation for Nazi injustice. The United States were the main driver in this development. Since the 1970s, the American open public discourse about the Holocaust had led to a powerful culture of remembrance, which became internationalized and developed into the "focal point of a combative political and moral strategy of the United States government", which hoped to reach a "final settlement of the Second World War". Although this course of action was motivated by politics of remembrance, contemporaneous political motivations were the spread of human rights, democracy and the concept of private property. Hence the political intentions also had an inevitable ideological flavour, especially with regard to the societies of the former Soviet Union.
As a result of this development, the middle of the 1990s saw sporadic governmental restitutions of artworks to organisations as well as individuals, culminating in 1998 in the Washington Principles. Forty-four states now committed to examine their collections in regards to works of art that had been confiscated as a result of Nazi persecution, in order to achieve just and fair solutions with persons prosecuted by the Nazi regime or their heirs. This international agreement led to the development and professionalization of provenance research in museums, libraries, archives, research institutes, and as a private enterprise. Its focus is first and foremost the documentation of ownership structures during the Nazi era. More recently, property transfers in the Soviet occupation zone/GDR and in colonial times have also come under scrutiny. The history of Nazi-related provenance research shows that it initially represented a tool of remembrance politics. As such it is primarily legitimized in ethical terms and remains dependent on media attention, public opinion and political will until today. At the same time, it continues to be relevant for the art market: art works suspected of having been seized as a result of Nazi prosecution are hardly tradable and lose their economic value accordingly. Conversely, works of art where just and fair solutions were achieved with the original owners or their heirs are rumoured to have the potential to significantly increase their economic value.
Academic art history has criticized this purpose-orientated research interest, asserting that provenance research follows primarily a "rather positivistic direction in art historical research" and neglects the "theoretical reflection and analysis of the specific aesthetic content of art". In order to consider its establishment within academic art history a "expanded methodical repertory" would be "indispensable", otherwise "certain aspects relating to the object as such, in particular the context of its creation (identifying its creator, geographical and chronological positioning, accurate dating, and establishing the medium" would need to be included. At the same time, provenance research has been praised for providing important impulses, especially for museum studies and the history of collecting.
From a historian's perspective however, provenance research needs to expand its research focus and research questions. With its research tools and its subject of interest it can also generate fresh insights at the intersection of historical and art historical research. Art market research is a relevant example. While history and art history kept their distance from the art market for a long time, leaving it to sociological and economical study, recent years have seen an increased interest in art market research from a humanities' perspective. This is partly due to the efforts of modern provenance research and its public reception and endorsement.
The Methodology of Provenance Research and its Benefit for Art Market Research
Provenance research often starts with the object. Its aim is to identify previous owners of an art work. The work itself can often already deliver important information, as labels, inscriptions, tags and stamps on the reverse can point to previous owners. Furthermore, consulting art historical literature is standard practice, especially catalogue raisonnés and exhibition, collection, and auction catalogues. On the basis of the collected information archives will be consulted, which hold material on relevant protagonists. At the same time, research can also take persecuted collectors and dealers as a starting point, in order to seek clarification on their fate and that of their collections. Provenance research is intensely source-oriented, and one of its central tasks consequently lies in exploring and accessing historical sources. Numerous documents and information primarily concerning the international art market in the twentieth century were fed into databases and are now digitally available. The wealth of information and data available online is overall beneficial for research into the art market and fosters it; economic studies, for example, use it to analyse pricing of artefacts over a greater period of time.
Comprehensive research into each individual object is not only necessary in order to identify previous owners. The circumstances under which an object was transferred are equally important, since the increasing pressure of the social and political circumstances from 1933 onwards not only led to direct confiscation through the Nazi state and the Nazi party, but also had a bearing on private transactions. An appropriate evaluation therefore requires insights into the complex conditions of those asset transactions as well as their historical context. In parallel to research relating to the object as such, provenance research therefore undertakes fundamental research focusing on National Socialist politics on art, the economic development of the German art market at the time as well as important art dealers, collectors, experts and Nazi functionaries. This method essentially follows a historical approach based on the critical analysis of sources, while placing past events and acts in the context of their time.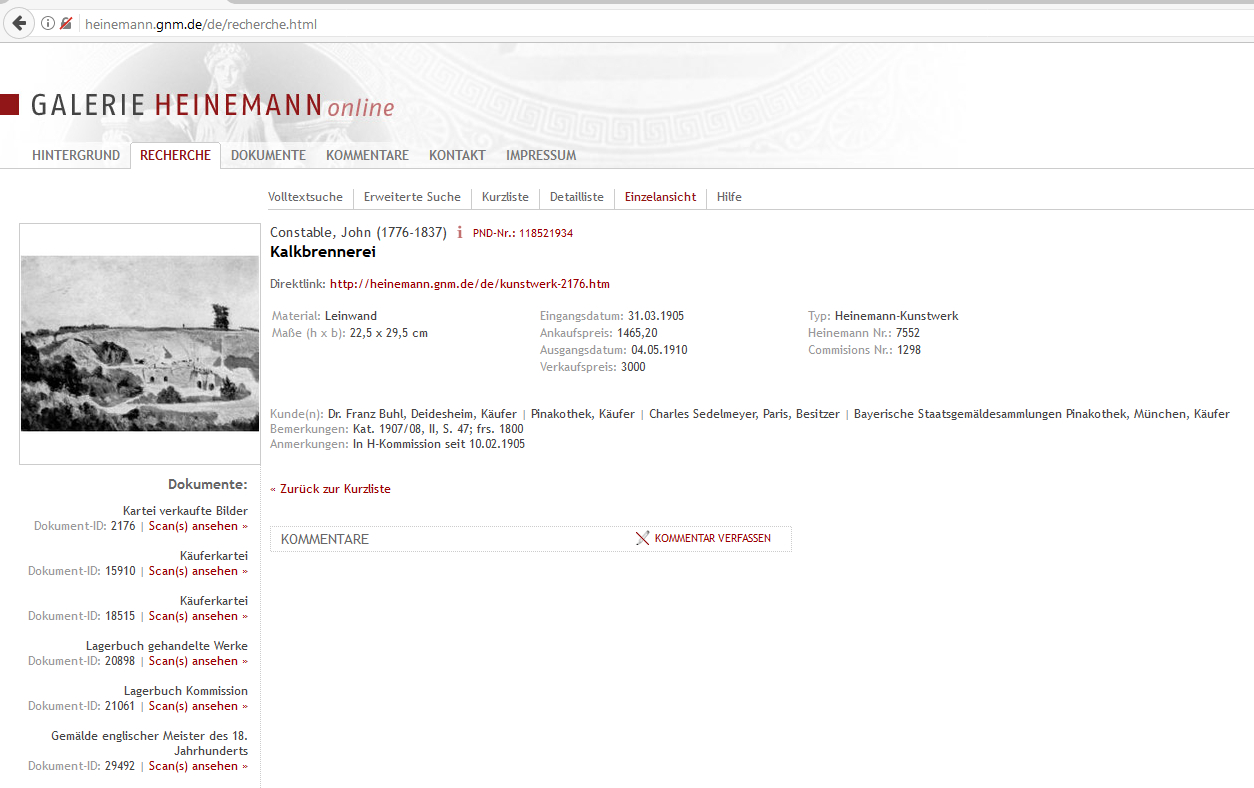 Fig. 3: The database for the Munich Gallery Heinemann was released in 2010. It contains information about more than 43.500 paintings. This database was the first project on the art trade, which was funded by the German "Arbeitsstelle für Provenienzforschung" (http://heinemann.gnm.de/).
Through fundamental research and contextualisation, provenance research contributes to art market research, even though its interest is still focussed on supporting the identification of looted art. However, this approach enables additional and beneficial insights, for example in comparison with a socio-economic perspective on the international art market of this period. The New Economic Sociology, that has devoted increasing interest to the art market since the turn of this century, typically adopts quantitative methods to arrive at general statements about social structure and mechanisms of the art market. Consequentially, it remains fairly abstract and focusses primarily on contemporary art markets. In contrast, provenance research works with historical sources to focus on the actual protagonists of the art market, outlining individual manoeuvring space, motives and strategies. At the same time, networks formed by the various players allow for a wider perspective of the art market as a dynamic web of relationships. In this approach, the art markets (concrete) mechanisms, functions, (personal) structure and spatial expansion can be analysed empirically while taking historical changes into account. The "web of relationships created by individual protagonists" is not only "of absolutely crucial importance for any research about the translocation of objects", but also enables us to trace information exchanges, analyse the calibration of power structures, and observe the establishment of aesthetic values. In addition, the in-depth study of archival sources in provenance research also provides the opportunity to analyze the influence of the changing economic and legal framework on the social structure of the art market and the actions of its protagonists.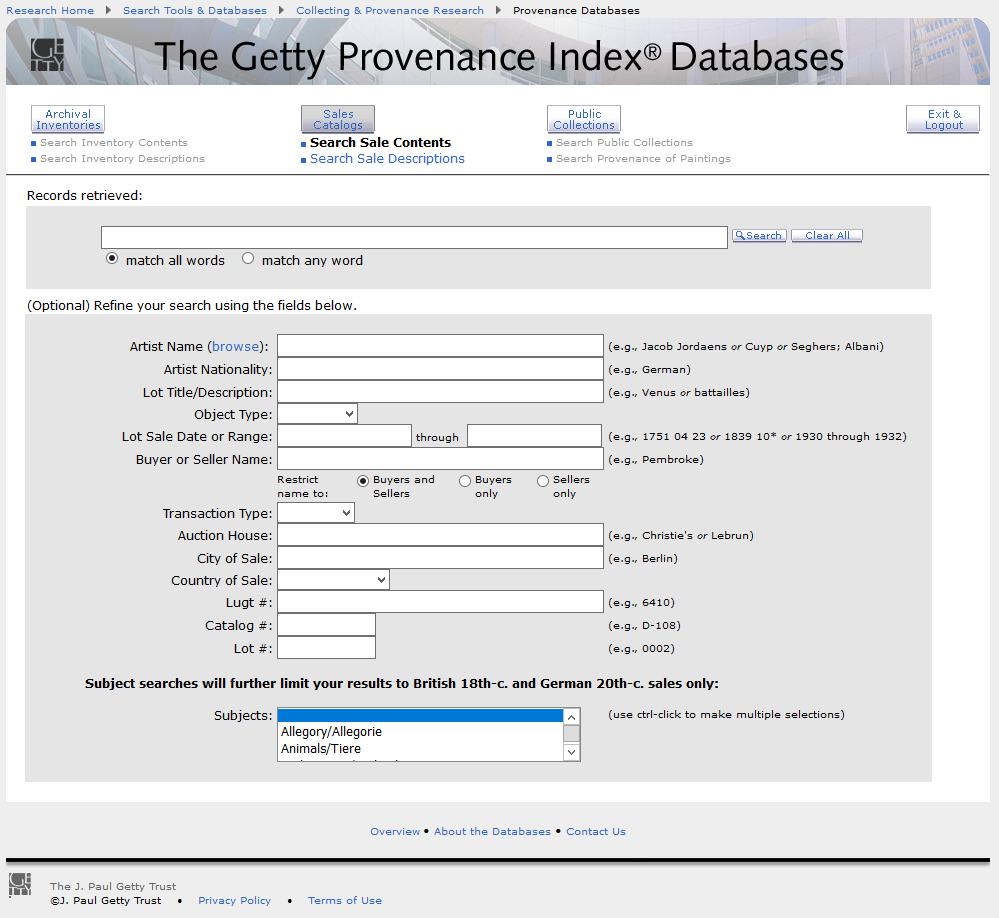 Fig. 4: The Getty Provenance Index Databases of the Getty Research Institute contain, among other things, data from more than 16.000 sales catalogs (http://www.getty.edu/research/tools/provenance/search.html).
Even though sources for both national and international art markets are limited, some archives from important dealers are preserved and have been made accessible to researchers. Of particular relevance in these documents is the fact that art dealers made considerable efforts to trace the activity of rivals, partners, potential clients, acclaimed experts and the movements of notable art works. The importance of these archival estates therefore by far exceeds their original purpose.
This is exemplified in the documents of the internationally acclaimed art dealer Duveen Brothers with galleries in London, New York and Paris. Joseph Duveen and his staff painstakingly traced developments in the major trading centres during the twentieth century. The art dealer was actively involved in generating value increases for his stock, as well as build close relationships based on mutual trust with important competitors, art historians and collectors alike. Major as well as peripheral centres of the art market become visible through the international web of relationships of this dealer and the competing networks of information by rival protagonists. For example, Duveen Brothers observed with some suspicion the sharing of information and contacts between a loosely connected group of smaller as well as larger dealers. The purpose of this alliance was to stay relevant in as many major art trade centres as possible, but most of all, to exclude mighty competitors like Duveen from their activities and their knowledge.
As a consequence, such estates allow for a measuring of a scope of activity running across borders and changing over time. It becomes possible to analyse the effects of seismic shifts such as the Great Depression and National Socialist rule on the structure of the international art market, but also to explore different strategies of coping adopted by respective protagonists. During the Second World War, Duveen Brothers made surprisingly early efforts to persuade other dealers not to trade in Nazi-looted art. For example it would be interesting to investigate whether American and British dealers, who faced a weak market in their own countries at the time, were really avoiding the booming art trade centres in the German sphere of influence, or whether they found ways, means and contacts to circumvent these barriers.
These are only a few examples of the possibilities offered by detailed analyses of the sources on individual art market protagonists. To summarize, provenance research firstly provides crucial impulses for art market studies by opening up important archival sources relating to art dealers, collectors and exhibitions and making them accessible via databases. It allows, for example, to investigate the (long-term) price development of works of art and particular genres. Secondly, fundamental research on important actors in the art trade enables qualitative analysis of personal networks within the art world, which essentially constitute the art market, as they evolve in changing historical circumstances. Thirdly, taking into account the general context of transactions, provenance research can also elucidate the influence of economic and political factors and developments on the art trade. This approach would not only favourably complement an economic-sociological perspective to art market research. Further potential lies in cooperation with other disciplines such as legal studies. The imminent academisation of provenance research should reveal the directions where its interests will develop further.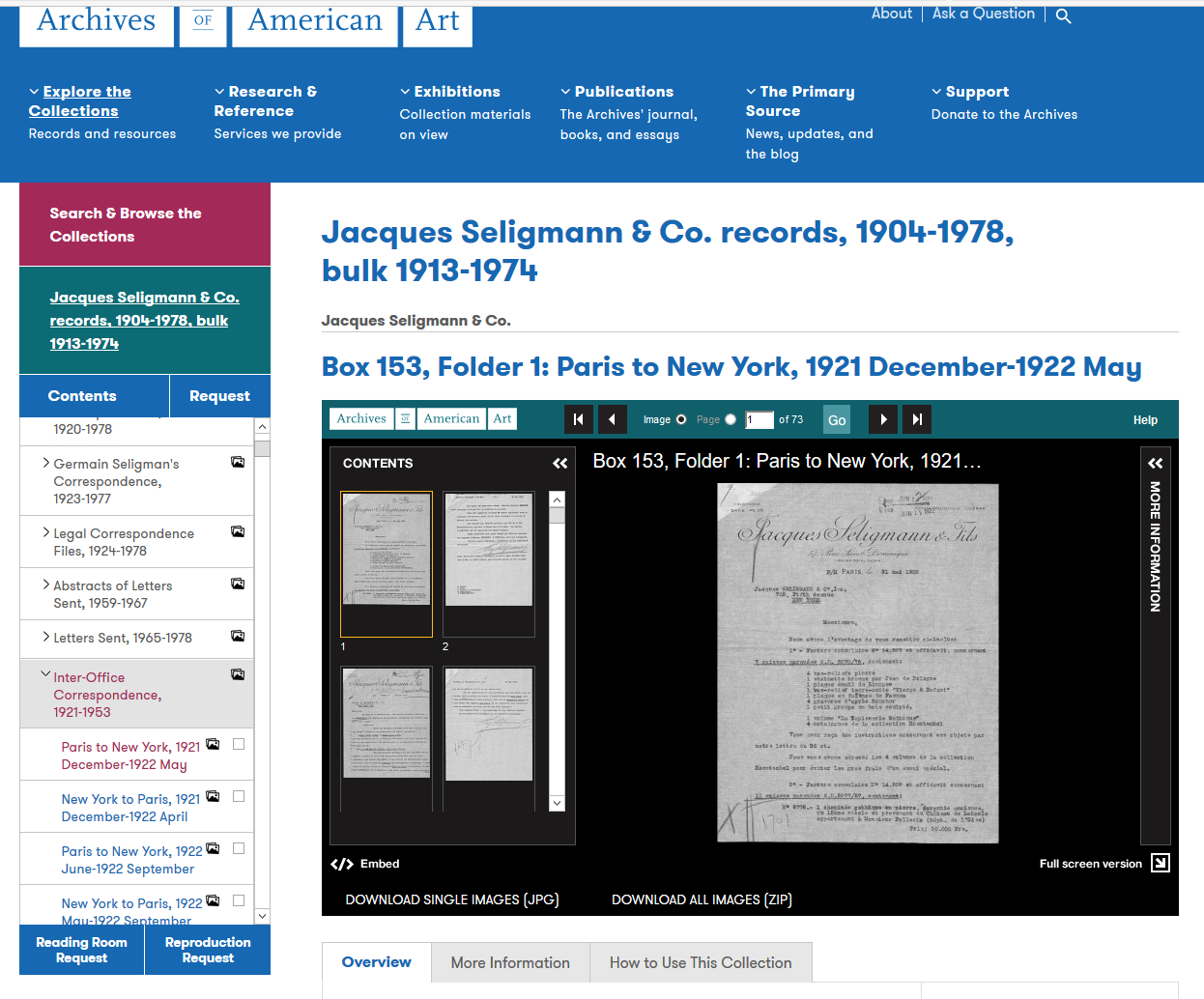 Fig. 5: In addition to the Duveen records, the papers of the international art dealer Seligmann & Co. are professionally prepared and accessible by the Archives of American Art (https://www.aaa.si.edu/collections/jacques-seligmann--co-records-9936 ).
Johannes Gramlich is a research associate at the Bavarian State Painting Collections in Munich.
Translation: Johanna Mocny and Susanne Meyer-Abich
---