Itinerary of a Cameroon Cross River Collection in Art Market Networks. An Analysis of Transaction Correspondence between Hamburg-Berlin-Leipzig
Abstract
This contribution aims at following the fortunes of a collection from the Cross River area of Cameroon, which entered market networks in 1908/9. The primary sources are not the objects per se, but a wide range of correspondences that the negotiations about their purchase gave rise to, once in Europe. It is therefore not intended as breakthrough provenance study of the objects as such; rather it hypothesizes in the light of the epistolary exchanges between the different players Mansfeld, Thilenius, Mendelssohn, and Meyer that the fortunes of collected objects in trade networks were linked to a number of actors and factors. It therefore seeks to answer the question of what actually happened to objects from a colonial context once they departed from their places of origin to enter a capitalist system of value? Paired with the study of archival materials, the article is interested specifically in tracking the market routes of "Mansfeld's collections" until their relocation into a museum. Anatomizing these moments of collections in motion could also help to gain more insight into the reasons that motivated a selection for the collectors/middlemen, favouring one suitable buyer over another; at the same time, it could reveal symbolical changes which could also be linked to the movements of a collection/object.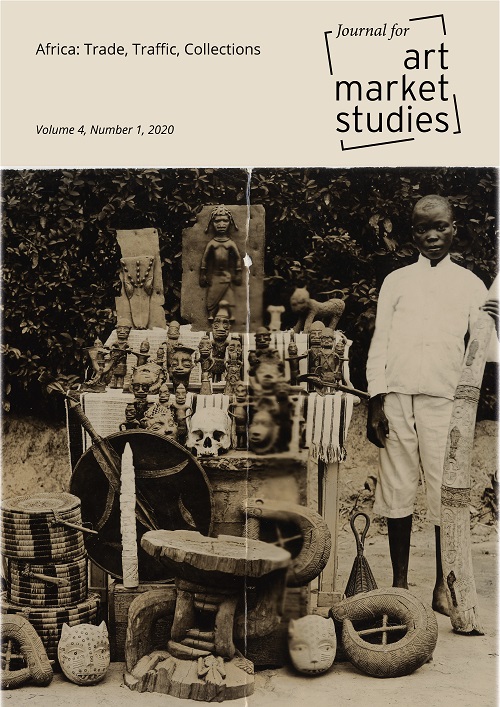 How to Cite
Fossi, R. T. (2020). Itinerary of a Cameroon Cross River Collection in Art Market Networks. An Analysis of Transaction Correspondence between Hamburg-Berlin-Leipzig. Journal for Art Market Studies, 4(1). https://doi.org/10.23690/jams.v4i1.101
License
Copyright (c) 2020 Richard Tsogang Fossi
This work is licensed under a Creative Commons Attribution-NonCommercial 4.0 International License.
Except where otherwise noted, the Journal for Art Market Studies is licensed under the Creative Commons Attribution-Non-commercial 4.0 International license (https://creativecommons.org/licenses/by-nc/4.0/). Articles can be read and shared if attribution is given to the original source (BY) and the use is not for commercial purposes (NC).