Anamorphosis of Unexpected Results. On the Epistemological Culture of Art Market Visualizations
Keywords:
Big Data, Digital Humanities, Visualization, Art market, Governmentality, Post-Digital, Anamorphosis, Anagnorisis, Poetics of Knowledge
Abstract
The article presents an inquiry into the method­ological concerns of art market research from a cultural studies perspective. It focuses on the liminal operating space of data between pictures, writing, numbers, and language. While representing data, art market visualizations also reproduce big data's epistemological grounds and strategic alignment. Therefore, it seems useful to conceive of big data as a dominant transdisciplinary factor of knowledge production. The arguments provided in this article are based on the assumption that mediality and interdisciplinarity are only partially a matter of choice. Thus, the possible influence of data mining and visualizations on elementary research techniques like reading and interpreting raises urgent and far-reaching questions.
Demonstrating that data's performativity relies on the materiality of tools and machines as well as accompanying narratives and specific blind spots, the article refers to anamorphosis and anagnorisis as complementary visual and poetic concepts. They are organized along an interrelation of superiority and fragmentation that speaks of certainty rather deferred than ensured. This ambiguity and fragility allows for an aggregation of libidinal, discursive, and political forces. However, this strategic inconsistency is not part of big data's popular image. Quite on the contrary, as art market visualizations often demonstrate. Frequently, they operate as symbolic machines that promise economic and visual productivity. Mutually reinforcing, visual observation and economic efficiency conjoin with the idea of abundant knowledge. Consequently, the main focus of this article lies on the rhetoricity of knowledge promises.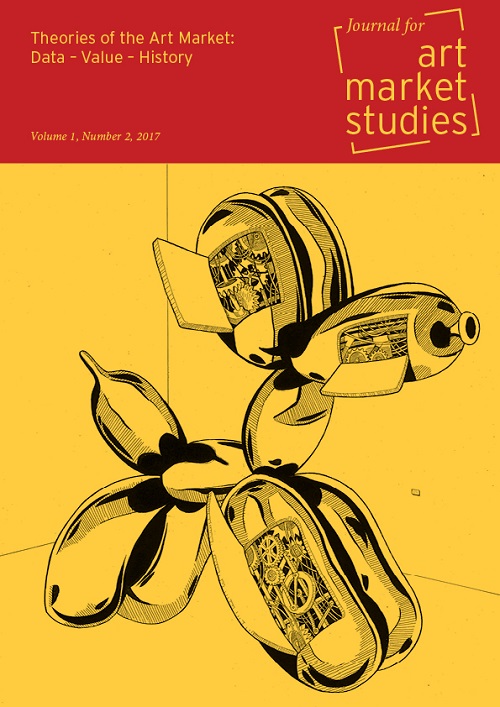 How to Cite
Skowronek, T. (2017). Anamorphosis of Unexpected Results. On the Epistemological Culture of Art Market Visualizations. Journal for Art Market Studies, 1(2). https://doi.org/10.23690/jams.v1i2.12
License
Copyright (c) 2017 Thomas Skowronek
This work is licensed under a Creative Commons Attribution-NonCommercial 4.0 International License.
Except where otherwise noted, the Journal for Art Market Studies is licensed under the Creative Commons Attribution-Non-commercial 4.0 International license (https://creativecommons.org/licenses/by-nc/4.0/). Articles can be read and shared if attribution is given to the original source (BY) and the use is not for commercial purposes (NC).