In the Absence of Foreign Currency: The Acquisition of "Samson Blinded" by Lovis Corinth
From the Central Archive of the Staatliche Museen Berlin
Abstract
Based on sources in the Berlin state museums' Central Archive, the article describes the complex route to acquisition of a striking painting which had been on loan to the National Gallery in East Berlin since 1958. It was a focal point of the permanent exhibition and visitors perceived it as a permanent fixture of the collection. The acquisition was compounded by the Cold War and the financial difficulties of an East German institution needing to settle with a London-based vendor in hard currency. The tortuous process took almost three decades and is documented in unusual detail in the museum archive. With hindsight, the museum took a justifiable decision in favour of unprecedented steps to acquire a highlight of its collection.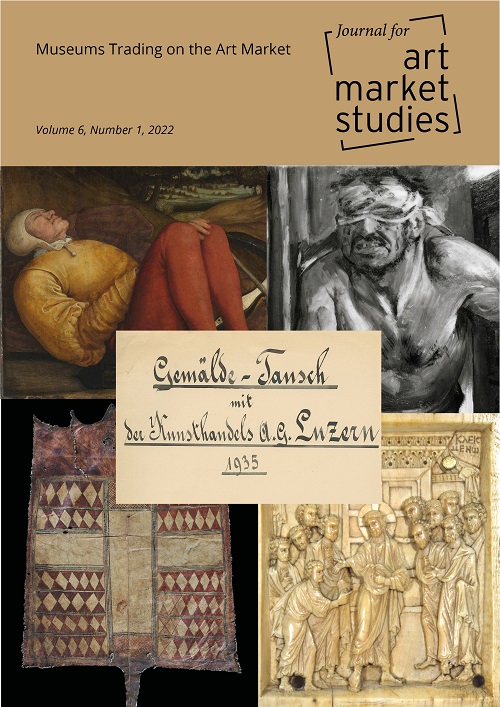 How to Cite
Grabowski, J. (2022). In the Absence of Foreign Currency: The Acquisition of "Samson Blinded" by Lovis Corinth: From the Central Archive of the Staatliche Museen Berlin. Journal for Art Market Studies, 6(1). https://doi.org/10.23690/jams.v6i1.135
License
Copyright (c) 2022 Jörn Grabowski
This work is licensed under a Creative Commons Attribution-NonCommercial 4.0 International License.
Except where otherwise noted, the Journal for Art Market Studies is licensed under the Creative Commons Attribution-Non-commercial 4.0 International license (https://creativecommons.org/licenses/by-nc/4.0/). Articles can be read and shared if attribution is given to the original source (BY) and the use is not for commercial purposes (NC).