The Nuremberg Ivory at Dumbarton Oaks
Abstract
The Incredulity of Thomas ivory plaque, held today at the Dumbarton Oaks Byzantine Collection in Washington, D.C, previously belonged to the Germanisches Nationalmuseum in Nuremberg. Deacessioned in 1936 in exchange of a Langobard book chest, it was purchased by the American collectors Mildred Barnes Bliss and Robert Woods Bliss, founders of Dumbarton Oaks, in 1937. The present article studies the deaccession and acquisition of the Nuremberg Ivory as a single phenomenon, aiming to understand the logics that lead to its exchange, as well as the effect it had on the Blisses' collecting patterns.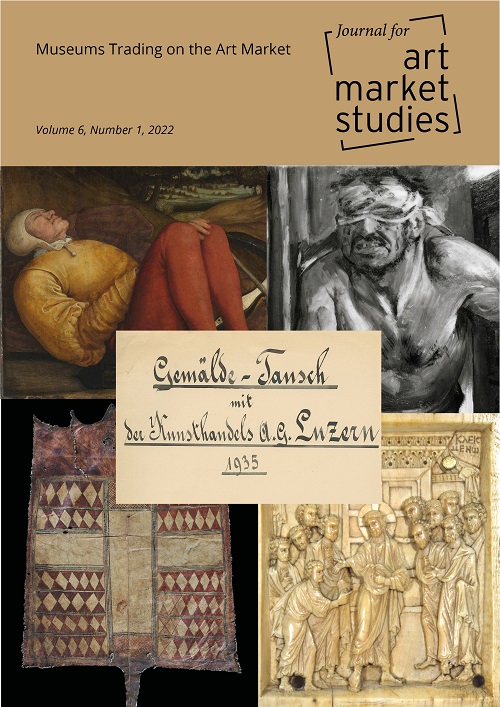 How to Cite
Salto Santamaría, I. (2022). The Nuremberg Ivory at Dumbarton Oaks. Journal for Art Market Studies, 6(1). https://doi.org/10.23690/jams.v6i1.137
License
Copyright (c) 2022 Iñigo Salto Santamaría
This work is licensed under a Creative Commons Attribution-NonCommercial 4.0 International License.
Except where otherwise noted, the Journal for Art Market Studies is licensed under the Creative Commons Attribution-Non-commercial 4.0 International license (https://creativecommons.org/licenses/by-nc/4.0/). Articles can be read and shared if attribution is given to the original source (BY) and the use is not for commercial purposes (NC).