Reflections on Provenance Research: Values – Politics – Art Markets
Keywords:
Provenance research
Abstract
Since the turn of the last century provenance research has developed and become professionalized in Europe and the United States as a field that enquires into the ownership history of art and cultural assets during the National Socialist period. While for considerable time the field received little acknowledgement by university faculties such as art history and historical science, provenance research is currently about to become – at least for the moment – institutionalized as an academic discipline at several universities in Germany and Switzerland. It remains to be seen which direction provenance
research will ultimately take as an academic field; however, an expansion above and beyond the NS-period as well as a connection with neighbouring research fields such as art market research are evidently being pursued. This article reflects the links between provenance research and art market studies. On the one hand, it sketches the historical development of provenance research and its impact on the value of art objects – and thus on the art market. On the other hand, it reveals the additional benefit that the methodology of provenance research can offer in the field of art market studies, especially in contrast to social science approaches.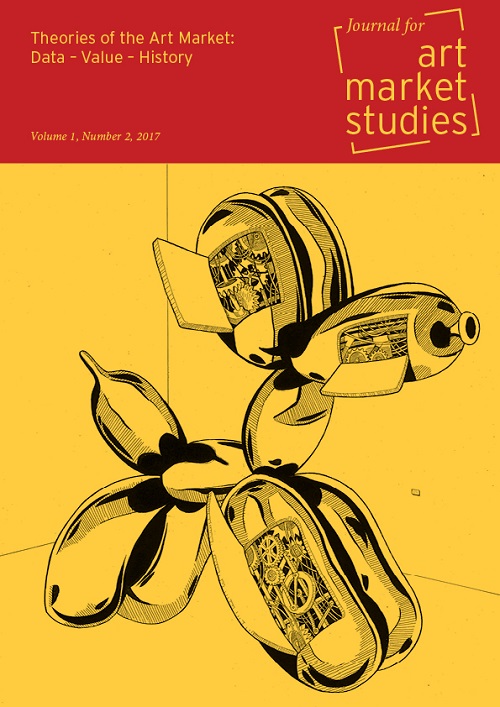 How to Cite
Gramlich, J. (2017). Reflections on Provenance Research: Values – Politics – Art Markets. Journal for Art Market Studies, 1(2). https://doi.org/10.23690/jams.v1i2.15
License
Copyright (c) 2017 Johannes Gramlich
This work is licensed under a Creative Commons Attribution-NonCommercial 4.0 International License.
Except where otherwise noted, the Journal for Art Market Studies is licensed under the Creative Commons Attribution-Non-commercial 4.0 International license (https://creativecommons.org/licenses/by-nc/4.0/). Articles can be read and shared if attribution is given to the original source (BY) and the use is not for commercial purposes (NC).