Artist-run Galleries - Differentiating Three Models in Current Contemporary Art Markets
Anne Luther

Technische Universität Berlin
Keywords:
Contemporary Art Market, Artist Run Galleries, Contemporary Art
Abstract
In the past five years the contemporary art market in a Western European and US context has progressed in its economic growth, professionalizing certain art world roles and encouraging the rise of young international galleries and private museums in the US. This article focuses on a particular local establishment of artist-run galleries in New York at the intersection of art production and commercial/instituional recognition. Artists founded art-run galleries that show strategies to exhibit and sell works of art in a peer-to-peer scenario, breaking with some established safeguarding protocols of emerging and established White Cube galleries. The article examines these strategies and demonstrates a reflective symbiosis between artist-run galleries and commercial and institutional recognition in the contemporary art market.
References
"Contemporary Art Daily." Contemporary Art Daily RSS. Accessed August 26, 2017. http://www.contemporaryartdaily.com/2016/08/huttendasein-at-15-orient-ave/.
Glazek, Christopher. "The Art World's Patron Satan." The New York Times. December 30, 2014. Accessed August 26, 2017. https://www.nytimes.com/2015/01/04/magazine/the-art-worlds-patron-satan.html.
Joselit, David. After art. New Jersey: Princeton University Press, 2013.
National Gallery. Accessed August 28, 2017. http://www.grandcentury.biz/nationalgallery.html.
Real Fine Arts. Interview Magazine. Accessed August 26, 2017. http://www.interviewmagazine.com/art/the-new-deal-real-fine-arts#_.
Russeth, Andrew. "Because This Gallery Can Get Stuck in Traffic." NYMag.com. Accessed August 26, 2017. http://nymag.com/news/articles/reasonstoloveny/2015/rv-gallery/
Sanchez, Michael. "Contemporary Art, Daily." In Art and Subjecthood : The Return of the Human Figure in Semiocapitalism, edited by Isabelle Graw, Daniel Birnbaum, and Nikolaus Hirsch, 52–60. Berlin: Sternberg Press, 2011.
Vine, Richard, Catherine Kron, and Julia Wolkoff. "Art In America." The Last Brucennial: The Interview - Interviews - Art in America. Accessed August 26, 2017. http://www.artinamericamagazine.com/news-features/interviews/the-last-brucennial-the-interview/.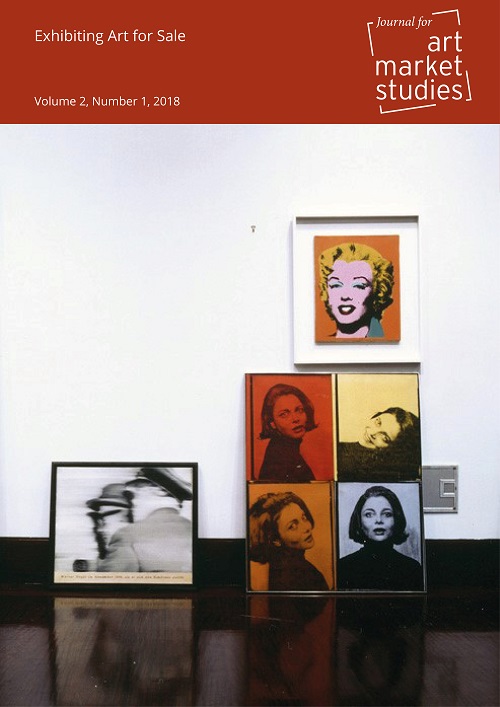 How to Cite
Luther, A. (2018). Artist-run Galleries - Differentiating Three Models in Current Contemporary Art Markets. Journal for Art Market Studies, 2(1). https://doi.org/10.23690/jams.v2i1.19
Copyright (c) 2018 Anne Luther
This work is licensed under a Creative Commons Attribution-NonCommercial 4.0 International License.
Except where otherwise noted, the Journal for Art Market Studies is licensed under the Creative Commons Attribution-Non-commercial 4.0 International license (https://creativecommons.org/licenses/by-nc/4.0/). Articles can be read and shared if attribution is given to the original source (BY) and the use is not for commercial purposes (NC).