An Art World Insider: Austen Henry Layard and the Nineteenth-Century European Art Trade
Cecilia Riva

Università Ca' Foscari Venezia
Keywords:
Art collecting, Art market, Collection acquisition, Bequests
Abstract
In the lively context of the European art market of mid-nineteenth century, Austen Henry Layard (1817-1894) played an active role both as a private collector and advisor, and equally as a trustee and unofficial travelling agent for London museums. Thanks to his extensive travels throughout Europe and the Middle East, he became acquainted with the most eminent figures of the art world and was able to purchase a great assortment of art objects, ranging from Cypriot pottery to Renaissance paintings, from Spanish religious artefacts to Burgundian tapestry. In order to analyse the cultural and economical implications of these relocations, this paper examines the relations of this network within the European connoisseurship, the formation of Layard's personal collection and his contributions to private and public institutions.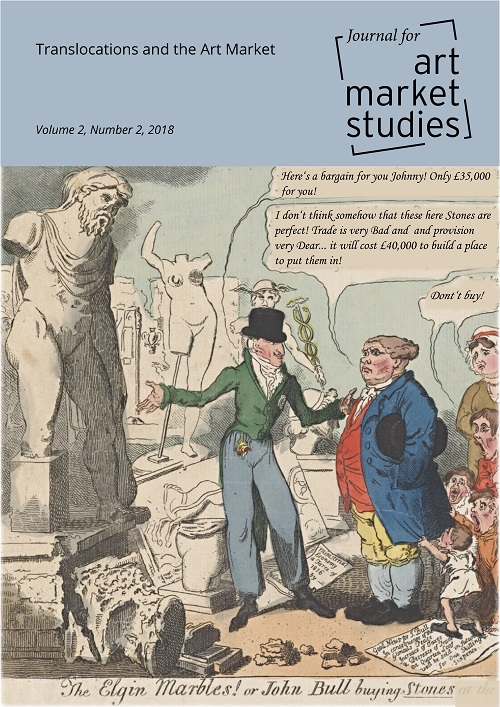 How to Cite
Riva, C. (2018). An Art World Insider: Austen Henry Layard and the Nineteenth-Century European Art Trade. Journal for Art Market Studies, 2(2). https://doi.org/10.23690/jams.v2i2.28
Copyright (c) 2018 Cecilia Regina Riva
This work is licensed under a Creative Commons Attribution-NonCommercial 4.0 International License.
Except where otherwise noted, the Journal for Art Market Studies is licensed under the Creative Commons Attribution-Non-commercial 4.0 International license (https://creativecommons.org/licenses/by-nc/4.0/). Articles can be read and shared if attribution is given to the original source (BY) and the use is not for commercial purposes (NC).