Under Control: Sol LeWitt and the Market for Conceptual Art
Keywords:
Art market, conceptual art
Abstract
In April 1972, one year before his accidental death, Robert Smithson cautioned: "The artist isn't in control of his value." He did not seem to speak for Sol LeWitt, who emphasized the transformation of the traditional production conditions of an artwork by promoting the idea in favor of its execution in his Paragraphs on Conceptual Art (1967). Moreover, the artist challenged the sale conditions of artworks through offering certificates and instructions in an art market largely dominated by unique objects. The essay tackles the critical market success of LeWitt's series of Wall Drawings within a time span of nearly twenty years, between 1968 and 1987, by tracking the myth of conceptual art's negation of the artwork as commodity within a system adjusting to capitalist modes of production.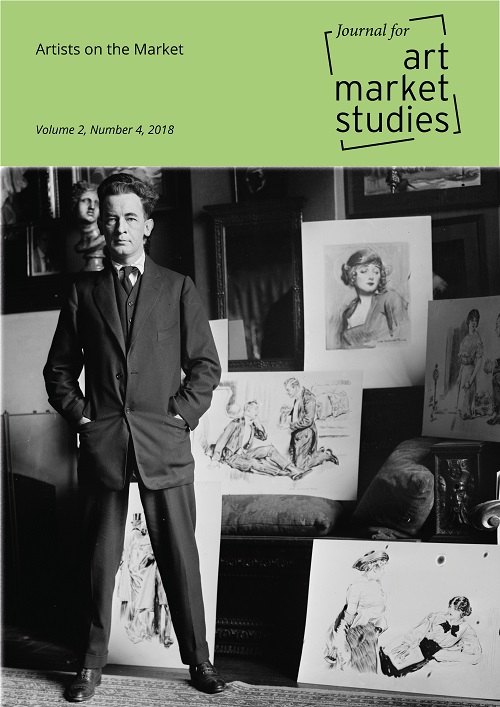 How to Cite
Hartung, M. (2018). Under Control: Sol LeWitt and the Market for Conceptual Art. Journal for Art Market Studies, 2(4). https://doi.org/10.23690/jams.v2i4.49
License
Copyright (c) 2018 Martin Hartung
This work is licensed under a Creative Commons Attribution-NonCommercial 4.0 International License.
Except where otherwise noted, the Journal for Art Market Studies is licensed under the Creative Commons Attribution-Non-commercial 4.0 International license (https://creativecommons.org/licenses/by-nc/4.0/). Articles can be read and shared if attribution is given to the original source (BY) and the use is not for commercial purposes (NC).