The Art Market and Politics: The Case of the Sigg Collection
Keywords:
Art Market, Collectors, Museums, M
Abstract
On 13 June 2012 the Swiss collector Uli Sigg donated his collection of contemporary Chinese art to the new museum of visual art in Hong Kong: M+. In August 2012 Artprice published its report on contemporary art for July 2011 to June 2012 announcing that five out of the ten contemporary artists fetching highest prices at auction, were Chinese. On 29 November 2012 Xi Jinping delivered his first speech after taking office in which he set out his vision for China. This paper argues that in order to understand the Chinese art market and the political context in which it operates it helps to look at three events which took place in 2012 and their context. Art, the art market and politics are closely interconnected here. The case study of M+ and its foundational donation, the Sigg collection of "contemporary Chinese art", helps to elucidate the relationships and the astonishing developments of the art market in China and Hong Kong during this time.
References
Oscar Ho Hing-Kay's, 'Government, Business, and the People: Museum Development in Asia'. In Belting, H. and Buddensieg, A. (eds.) (2009) The Global Art World: Audiences, Markets, and Museums, ZKM publications
Oscar Ho's chapter 'Under the Shadow: Problems in Museum Development in Asia', in Antoinette, M. and Turner, C (2014) Contemporary Asian Art and Exhibitions, ANU Press Canberra AUS.
Fibicher, B. and Frehner, M. (2005) Mahjong, Hatje Cantz, Verlag,
Richard Krauss (2004), The Party and the Arty in China, Rowman & Littlefield Publishing
Krauss, R. 'When Legitimacy Resides in Beautiful Objects' in Gries and Rosen (2004) State and Society in 21st Century China. Routledge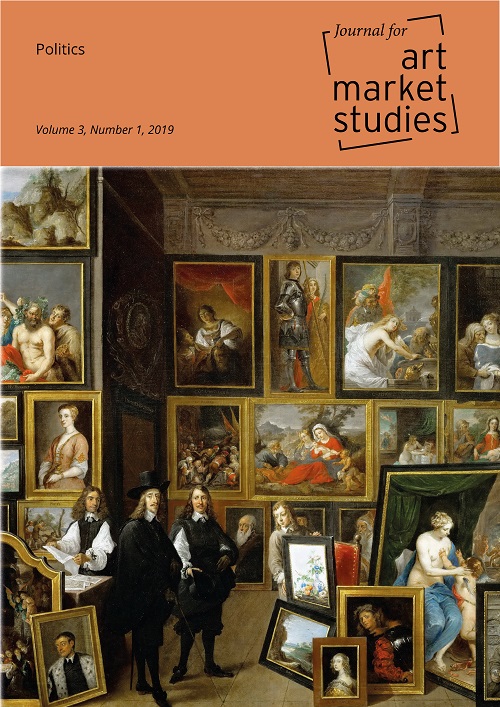 How to Cite
Foster, N. (2019). The Art Market and Politics: The Case of the Sigg Collection. Journal for Art Market Studies, 3(1). https://doi.org/10.23690/jams.v3i1.85
License
Copyright (c) 2019 Nicola Foster
This work is licensed under a Creative Commons Attribution-NonCommercial 4.0 International License.
Except where otherwise noted, the Journal for Art Market Studies is licensed under the Creative Commons Attribution-Non-commercial 4.0 International license (https://creativecommons.org/licenses/by-nc/4.0/). Articles can be read and shared if attribution is given to the original source (BY) and the use is not for commercial purposes (NC).