How to furnish a Palace. Porcelain acquisitions in the Netherlands for Augustus the Strong, 1716-1718
Keywords:
Porcelain trade, Saxony, Netherlands, Augustus the Strong
Abstract
This article discusses the acquisition of East Asian porcelain for the furnishing of the Japanese Palace, Augustus the Strong's pleasure palace in Dresden. It focuses on two important documents that give information on how and where porcelain was purchased in 18th century Saxony: firstly, the historic royal inventories, assembled between 1721-1727, which not only record the interior equipment of the palace, but which also refer to a number of porcelain dealers from Dresden and Leipzig by name. Secondly, a set of letters between the Saxon court and Dutch dealers in the Netherlands provide us with information on the porcelain market in Holland between 1716-1718, a timeframe in which two charges of East Asian porcelains were acquired for the Japanese Palace with the help of resident merchants. The article aims to highlight the importance of these local correspondents for the assembly of Augustus the Strong's East Asian porcelain collection and what networks these dealers drew back upon. Furthermore, it tries to shed further light on the provenience of selected objects from the extant collection of the Porzellansammlung Dresden by connecting them to the above-mentioned purchases made in the Netherlands.
References
Unpublished sources
SKD Inventare, Nr. 324, INVENTARIUM über das Palais zu Alt Dresden. Anno 1721. 1721-1727 (unpublished).
Staatliche Kunstsammlungen Dresden, Archiv Porzellansammlung, II K. 1.1 Holländisches Ballais Sachen betr. 1717, 1718, Spezifikation Lackwaren und Porzellan 1718 (unpublished).
HStA Dresden Loc. 380/03, Papiers, concernant les emplettes des porcelaines en Hollande, minutes des rapports au Roi du Comte de Lagnasce lorsqu'il fut en Hollande pour ses propres affaires, ou sont joints(?) les ordres de Sa Majesté les emplettes de vases de Delft Porcelaines, toiles, pintes et vaisseaux armes en guerre pour le service du Roi avec les minutes des lettres écrites à diverses personnes par le dit Comte Lagnasce. 1716-1718 (unpublished).
HStA Dresden, Loc. 662/07, Lettres du Comte de Lagnasc, 1716-1717 (unpublished).
HStA Dresden, 13472 Schatullenkasse, Schatullenrechnungen Friedrich August I., Kurfürst von Sachsen und Königs von Polen, Königl. Rechnung, Nr. 35. 1717 (unpublished).
HStA Dresden, Oberhofmarschallamt, Akte G, Nr. 30a, Kampement bei Radewitz [Zeithainer Lager], 1730 (unpublished).
HStA Dresden, 10035 Geheimes Konsilium, Loc. 05603/01, Anna Elisabeth de Bassetouches Verlassenschaftssache, 1742-1744 (unpublished).
HStA Dresden, Loc. 13957/01, Die hinterlassenen Kinder und Erben von Anna Elisabeth verwitwet gewesene Bassetouche, namentlich die Brüder Wilhelm Ludwig, Gerhard und Christian Vincentius Bassetouche, zugleich Johann Christoph Hornemann als Erben seiner verstorbenen Ehefrau, Catharina Elisabeth, ehemals Erbin und Witwe von Jacob Bassetouche, sowie die mitklagende Maria Elisabeth Morath, geborene Bassetouche, gegen den zum Kreditwesen von Sophie Charlotte ehemals Eger, nun verehelichte Franckenstein, verordneten curatorem litis et bonorum, Gottlob Heinrich Vogler, gegen den mitbeklagten Carl Christian Eger, königlich-polnischen und kurfürstlich-sächsischen Kammerkommissar, sowie die mitbeklagte Anna Sibylle Meinhardt, wegen Erbschaftsdifferenzen, 1739-1742 (unpublished).
Published sources
John Ayers, Chinese and Japanese Works of Art in the Collection of Her Majesty the Queen, 3 vols., vol. 1, (London: Royal Collection Trust, 2016), p. 108.
Wilhelm Beuleke, Bremisches Jahrbuch, herausgegeben von der Historischen Gesellschaft, vol. 39 (Bremen: Arthur Geist Verlag, 1939, No. 75).
Johan Engelbert Elias, De vroedschap van Amsterdam, 1578–1795, met een inleidend woord van den archivaris der stad Amsterdam Mr. W.R. Veder, (Haarlem: Loosjes, 1903).
Maureen Cassidy-Geiger, "Innovations and the Ceremonial Table in Saxony, 1719 – 1747", in Peter-Michael Hahn, Ulrich Schütte, eds., Zeichen und Raum. Ausstattung und Zeremoniell in den deutschen Schlössern der frühen Neuzeit. Rudolstädter Forschungen zur Residenzkultur, vol. 3 (Berlin and Munich: Deutscher Kunstverlag, 2006).
Wenchao Li, ed., Gottfried Wilhelm Leibnitz. Kurfürstin Sophie von Hannover. Briefwechsel (Göttingen: Wallstein Verlag, 2017).
Stefi Jersch-Wenzel, Reinhard Rürup, eds., Quellen zur Geschichte der Juden in den Archiven der neuen Bundesländer (München: K.G. Saur, 2001).
Erika Schachinger, Die Dorotheenstadt 1673-1708: eine Berliner Vorstadt. Veröffentlichungen aus den Archiven Preussischer Kulturbesitz (Köln: Böhlau, 2001).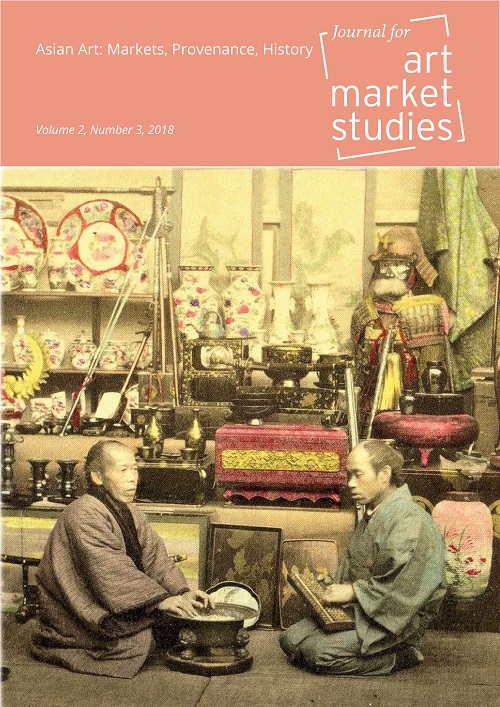 How to Cite
Simonis, R. S. (2018). How to furnish a Palace. Porcelain acquisitions in the Netherlands for Augustus the Strong, 1716-1718. Journal for Art Market Studies, 2(3). https://doi.org/10.23690/jams.v2i3.52
License
Copyright (c) 2018 Ruth Sonja Simonis
This work is licensed under a Creative Commons Attribution-NonCommercial 4.0 International License.
Except where otherwise noted, the Journal for Art Market Studies is licensed under the Creative Commons Attribution-Non-commercial 4.0 International license (https://creativecommons.org/licenses/by-nc/4.0/). Articles can be read and shared if attribution is given to the original source (BY) and the use is not for commercial purposes (NC).