The trade in Far Eastern Art in Berlin during the Weimar Republic (1918-1933)
Keywords:
Asian art, Berlin art trade
Abstract
The trade in Far Eastern objects of art and consequently the establishment of an art market in Europe originated with the Dutch Verenigde Oostindische Compagnie (V.O.C.) in the seventeenth century. In Berlin during the period from 1850 to 1870, East Asian art was often sold in conjunction with other goods from the Far East that were referred to as "colonial", such as tea. At the turn of the twentieth century, the initially more popular Japanese art had passed its zenith in Germany, as elsewhere in Western countries, and interest gradually turned to Chinese art. Dealers began to adjust to the changes in taste, establishing galleries in boomtown Berlin which offered Chinese art, based on greater knowledge acquired on personal journeys to China. The article outlines the activities by four main Berlin dealers in Japanese and Chinese art: Theodor Bohlken, Edgar Worch, Otto Burchard and Felix Tikotin, before focusing on the highlights of the market turnover of Far Eastern art in Berlin's boom years between 1927 and 1929.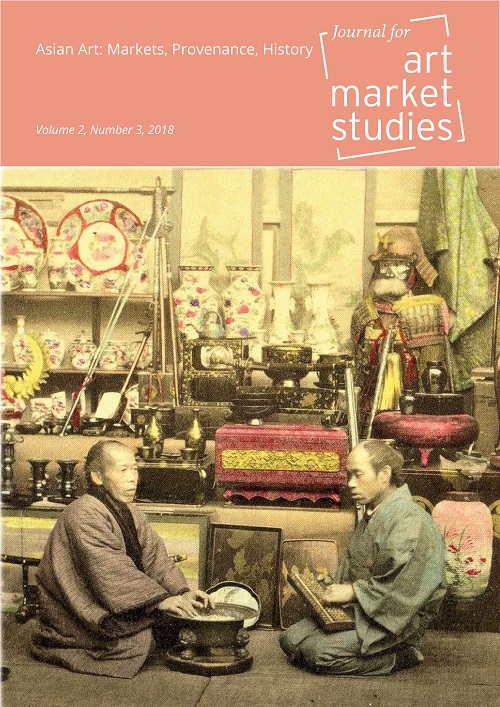 How to Cite
Jirka-Schmitz, P. (2018). The trade in Far Eastern Art in Berlin during the Weimar Republic (1918-1933). Journal for Art Market Studies, 2(3). https://doi.org/10.23690/jams.v2i3.57
License
Copyright (c) 2018 Patrizia Jirka-Schmitz
This work is licensed under a Creative Commons Attribution-NonCommercial 4.0 International License.
Except where otherwise noted, the Journal for Art Market Studies is licensed under the Creative Commons Attribution-Non-commercial 4.0 International license (https://creativecommons.org/licenses/by-nc/4.0/). Articles can be read and shared if attribution is given to the original source (BY) and the use is not for commercial purposes (NC).