Emporio Janetti Padre e Figli and the Japanese Art Market in Florence in the Second Half of the Nineteenth Century
Keywords:
Japanese Art, Florence, Frederick Stibbert, Janetti, art market
Abstract
In the 1870s collecting Japanese art products started to be popular among a wider range of collectors, not only among circles of intellectuals, artists, and designers. This cultural phenomenon also reached Italy, and when a group of Japanese diplomats (Iwakura Mission) arrived in Florence in May 1873, it reported a very positive impression of a shop that sold Japanese goods. This article aims to clarify the context and background for this enthusiastic comment, using the archive of Frederick Stibbert (1838-1906), a British citizen born in Florence who created an impressive Japanese collection consisting mainly of armour and weapons, but also ceramics, textiles, and folding screens. Despite his immense wealth and extensive travels around Europe, Stibbert purchased most of the Japanese artworks through Florentine art dealers such as Janetti Padre e Figli, the shop probably referenced by the Japanese diplomats. As this article outlines, Janetti was able to establish a direct supply channel from Japan due to the help of Vittorio Aymonin (1826-1888), a silkworm-egg dealer who resided in Japan from 1867 to 1888. This discovery explains both the positive comment expressed by the Japanese diplomats, and the decision made by Frederick Stibbert of choosing Janetti as his favourite dealer of Japanese artworks from the late 1860s to the end of the 1880s.
References
Martina Becattini, Il contesto culturale per la nascita del Giapponismo in Toscana, in Vincenzo Farinella and Francesco Morena, eds., Giapponismo. Suggestioni dell'Estremo Oriente dai Macchiaioli agli anni Trenta (Livorno: Sillabe, 2012), 34-45.
Martina Becattini, La genesi della collezione giapponese e gli allestimenti storici, in Samurai! Armature Giapponesi dalla Collezione Stibbert, (Livorno: Sillabe, 2013), 13-18.
Barbara Bertelli, Commercio antiquario a Firenze nel primo trentennio dopo l'Unità d'Italia: protagonisti, transazioni e circolazione delle opere d'arte, PhD Thesis (Università degli Studi di Udine, 2012).
Philippe Burty, Japonisme, in The Academy, 7 August 1875, 150-151.
Silvio Calzolari, Firenze e il Giappone (Florence: SP 44 Editore, 1886).
G. Carrocci, Il Congresso degli Orientalisti, in L'Illustrazione Italiana, 4/40 (1878), 218-219.
Francesco Civita, Frederick Stibbert, the man, his museum and his collection of Japanese arms, armour and art, Andon, 101 (2016), 73-87.
Marcello Fantoni, et al., eds., Gli anglo- americani a Firenze. Idea e costruzione del Rinascimento (Rome: Bulzoni Editore, 2000).
Vincenzo Farinella and Vanessa Martini, eds., Giapponismi italiani tra Otto e Novecento (Pisa: Pacini Editore 2015).
Dominique Charles Fuchs, Frederick Stibbert e il Giapponismo, in Museo Stibbert Firenze, 1 (1995), 24-28.
Kume, Kunitate, Graham Healey, and Chūshichi Tsuzuki, eds. The Iwakura Embassy, 1871-1873: a true account of the Ambassador extraordinary & plenipotentiary's journey of observation through the United States of America and Europe, vol.4 (Chiba, Japan: Japan Documents, 2002).
Ian Nish, ed., The Iwakura Mission to America and Europe: A New Assessment (Richmond: Curzon Press, 1998).
Clare Pollard, Master Potter of Meiji Japan: Makuzu Kōzan (1842-1916) and His Workshop (Oxford: Oxford University Press, 2002).
Stefano Turina, Vittore Grubicy e il giapponismo tra Italia ed Europa, MA Thesis (Università degli Studi di Torino, 2012).
Nancy Troyer, Telemaco Signorini and Macchiaioli Giapponismo: A Report of Research in Progress, in The Art Bulletin, 66 (1984), 136-145.
Claudio Zanier, Semai: setaioli italiani in Giappone (Padova: CLEUP, 2006).
Giovanni Zolla and Antonio Tensi, Campello Monti: dalla sua origine fino ai giorni nostri (Omegna: Luigi Vercelli Editore, 1940).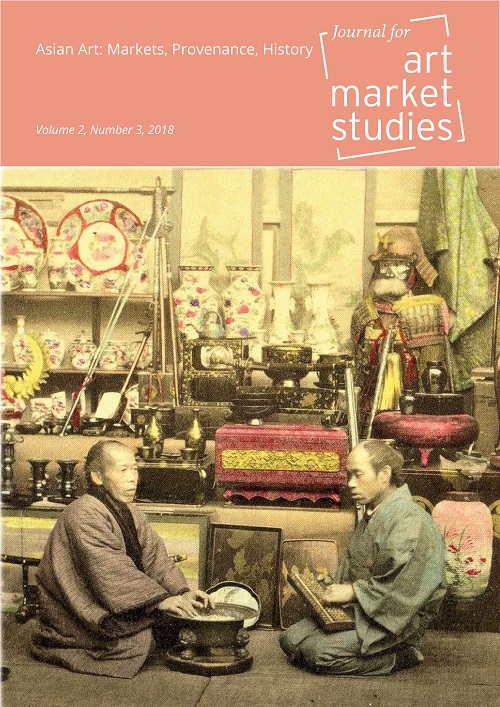 How to Cite
Papini, M. (2018). Emporio Janetti Padre e Figli and the Japanese Art Market in Florence in the Second Half of the Nineteenth Century. Journal for Art Market Studies, 2(3). https://doi.org/10.23690/jams.v2i3.62
License
Copyright (c) 2018 Massimiliano Papini
This work is licensed under a Creative Commons Attribution-NonCommercial 4.0 International License.
Except where otherwise noted, the Journal for Art Market Studies is licensed under the Creative Commons Attribution-Non-commercial 4.0 International license (https://creativecommons.org/licenses/by-nc/4.0/). Articles can be read and shared if attribution is given to the original source (BY) and the use is not for commercial purposes (NC).