Exhibiting and Auctioning Yuanmingyuan ("Summer Palace") Loot in 1860s and 1870s London: The Elgin and Negroni Collections
Abstract
This article examines the exhibitions and sales of Yuanmingyuan (or 'Summer Palace') loot taken from China in October 1860 by two soldiers in the Anglo-French armies – James Bruce, 8th Earl of Elgin (1811-1863) and Captain Jean-Louis de Negroni (b.1820). Both men displayed their collections before auctioning them – the former in the prestigious South Kensington Museum (now the V&A) in 1862; the latter in a well known exhibitionary site, the Crystal Palace in Sydenham in 1865. Such displays and public exhibitions were used as a device for enhancing the value of collections destined for the art market. This article thus explores the inter-relationship between museum/exhibition sites and auction houses in the selling of looted objects from China's Yuanmingyuan in 1860s and 1870s London.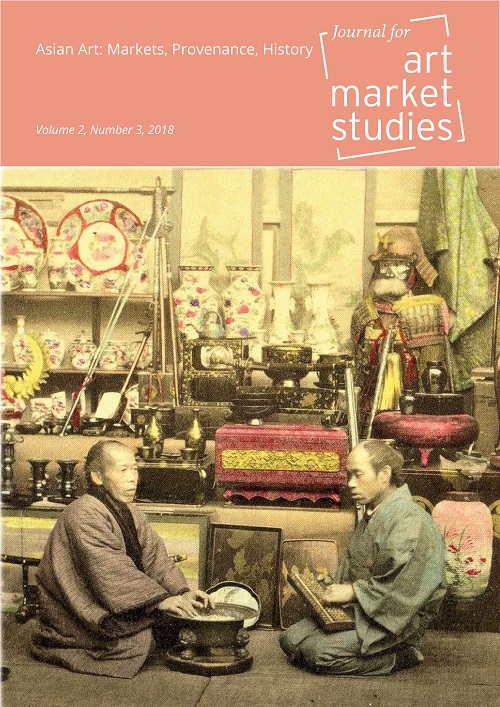 How to Cite
Tythacott, L. (2018). Exhibiting and Auctioning Yuanmingyuan ("Summer Palace") Loot in 1860s and 1870s London: The Elgin and Negroni Collections. Journal for Art Market Studies, 2(3). https://doi.org/10.23690/jams.v2i3.63
License
Copyright (c) 2018 Louise Tythacott
This work is licensed under a Creative Commons Attribution-NonCommercial 4.0 International License.
Except where otherwise noted, the Journal for Art Market Studies is licensed under the Creative Commons Attribution-Non-commercial 4.0 International license (https://creativecommons.org/licenses/by-nc/4.0/). Articles can be read and shared if attribution is given to the original source (BY) and the use is not for commercial purposes (NC).