Well-Advised by Friends: Philipp F. Reemtsma's East-Asian Collection
Keywords:
Reemtsma, Asian art, Provenance
Abstract
The subject of this article are the East Asian objects in the collection of Philipp Fürchtegott Reemtsma (1893–1959), a leading tobacco and cigarette manufacturer based in Hamburg. In 1968, to mark the tenth anniversary of Philipp F. Reemtsma's death, his widow, Gertrud Reemtsma, produced a catalogue of her late husband's collection of Chinese objects, which she presented to friends, advisers, and art dealers. Her correspondence shows how well-connected Reemtsma had been as a collector without ever cutting much of a public figure in the art world. As Reemtsma bequeathed a large part of his collection to the Museum für Kunst und Gewerbe in his hometown, the provenance of these objects subsequently came into focus in the course of the – by now – widespread research initiatives into the history and origins of collections held in public museums in Germany and elsewhere. Reemtsma's estate is preserved at the Hamburg Institute for Social Research and presented a valuable resource, complemented by auction catalogues and other archival records. While provenance information on the objects now in the Hamburg museum is scarce, the investigation yielded at least some information on a very private collector's sources, advisers and purchases.
References
Silke Reuther, Die Kunstsammlung Philipp F. Reemtsma Herkunft und Geschichte; Berlin 2006
Sabine Schulze and Silke Reuther, Raubkunst? Provenienzforschung zu den Sammlungen des Museum für Kunst und Gewerbe, Hamburg 2014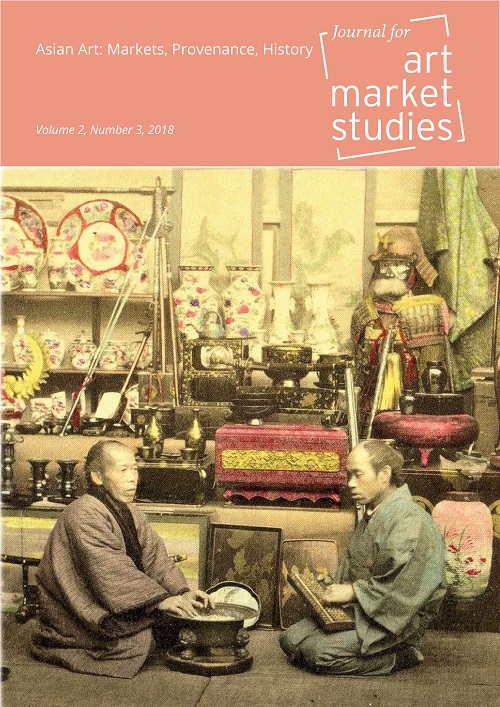 How to Cite
Reuther, S. (2018). Well-Advised by Friends: Philipp F. Reemtsma's East-Asian Collection. Journal for Art Market Studies, 2(3). https://doi.org/10.23690/jams.v2i3.74
License
Copyright (c) 2018 Silke Reuther
This work is licensed under a Creative Commons Attribution-NonCommercial 4.0 International License.
Except where otherwise noted, the Journal for Art Market Studies is licensed under the Creative Commons Attribution-Non-commercial 4.0 International license (https://creativecommons.org/licenses/by-nc/4.0/). Articles can be read and shared if attribution is given to the original source (BY) and the use is not for commercial purposes (NC).