Beyond Murillo: New Data-Driven Research on the Painting Market in Early Modern Seville
Keywords:
Art market, Seville, Sevilla, Guild, Dealers, Transatlantic trade, Database, Relational
Abstract
While data-driven research has outlined the development of early modern art markets in Europe, the Iberian peninsula remains a lacuna in our knowledge. Seville fulfilled all the necessary prerequisites to support a sophisticated art trade. In the 16thand early 17thcenturies, it was a large metropolis of over 100,000 inhabitants, with a growing merchant class and access to foreign markets due to its role as port to the Indies. Yet its market for paintings remains understudied. 
In this paper, we employ the conceptual framework of art market studies to reexamine the Sevillian art market in the 16th and 17th centuries with new evidence. First, we present the first relational database of Sevillian painters, developed by digitizing and mining twenty volumes of archival sources published from 1899 to 2006. Using this information, we provide estimates for the number of painters in the city from 1475-1700.We then divide the market into primary, secondary and tertiary sectors, and explore the evidence for the existence of other actors and institutions vital to the art trade. Finally, we finish by presenting multiple avenues for research that might be pursued in the future.
References
Álvarez, Mari-Tere. The Almoneda: The Second-Hand Art Market in Spain, in Jeremy Warren and Adriana Turpin, eds., Auctions, Agents and Dealers: the Mechanisms of the Art Market, 1660-1830 (Oxford: Archaeopress, 2008), 33-39.
Brown, Jonathan. The Golden Age of Painting in Spain (New Haven: Yale University Press, 1991).
Bruquetas Galán, Rocío. Los Gremios, Las Ordenanzas, los Obradores, in La pintura europea sobre tabla siglos XV, XVI y XVII, (Madrid: Ministerio de Cultura, 2010), 20-31.
Ceán Bermúdez, Juan Agustín. Carta de D. Juan Agustin Cean Bermudez a un amigo suyo… (Cádiz: Casa de Misericordia, 1806).
Chaunu, Pierre. Sevilla y América Siglos XVI y XVII (Sevilla: Universidad de Sevilla, 1983).
Cherry, Peter. Major and Minor Masters of the Sevillian School in the "Golden Age," in Libros de la Corte, Monográfico 5, Año 9 (2017), 47-66.
de Marchi, Neil and Hans J. Van Miegroet. The History of art Markets, in Victor A. Ginsburgh and David Throsby, eds., the Handbook of the Economics of art and Culture, V. 1 (Amsterdam: Elsevier, 2006).
Domínguez Ortiz, Antonio. La población de Sevilla en el siglo XVI, in Los hospitales de Sevilla (Sevilla, Real Academia de Buenas Letras, 1989).
Epstein, S.R. and Maarten Prak, eds., Guilds, Innovation and the European Economy, 1400-1800 (Cambridge: Cambridge University Press, 2010).
Falomir, Miguel. Artists' responses to the Emergence of Markets for Painting in Spain, c. 1600, in Neil De Marchi and Hans Van Miegroet, eds., Mapping Markets for Paintings in Europe, 1450-1750 (Turnhout: Brepols, 2006).
Gestoso y Pérez, José. Ensayo de un diccionario de los artifices que florecieron en Sevilla desde el siglo XIII al XVIII inclusive. 1899-1903 (3 volumes) (Pamplona: Analecta Editorial, 2001).
González García, Pedro. El comercio de obras de arte de Sevilla a Hispanoamérica a fines del siglo XVI (1583-1600) (Undergraduate Thesis, University of Seville, 1988).
Kinkead, Duncan. El Mercado de la Pintura en Sevilla, 1650-1699, in Congreso Internacional Andalucía Barroca: actas (17-21 Septiembre de 2007), Vol. 1 (Sevilla: Junta de Andalucía, 2009), 89-98.
Kinkead, Duncan. Juan de Luzón and the Sevillian Painting Trade with the New World in the Second Half of the Seventeenth Century, in The Art Bulletin 62/2 (1984),303-310.
Kinkead, Duncan. Pintores y Doradores en Sevilla, 1650-1699. Documentos (Bloomington: Authorhouse, 2007).
Laboratorio de Arte. Documentos para la historia del arte en Andalucía. 10 Volumes (Sevilla: Universidad de Sevilla, 1927-1946).
López Martínez, Celestino. Notas para la historia del arte. 4 Volumes (Sevilla: Rodríguez, Gimenez y Ca., 1928-1932).
Martín Morales, Francisco Manuel. Aproximación al estudio del mercado de cuadros en la Sevilla barroca (1600-1670), in Archivo Hispalense 69/210 (1986), 137-160.
Méndez Rodriguez, Luis. Velázquez y la Cultura Sevillana (Sevilla: Universidad de Sevilla 2005).
Montias, John Michael. Art Dealers in the Seventeenth-Century Netherlands, in Simiolus 18/4 (1988), 244-256.
Montias, John Michael. Artists and Artisans in Delft. A socioeconomic study of the 17th century (Princeton: Princeton University Press, 1982).
Montias, John Michael. Cost and Value in Seventeenth-Century Dutch Art, in Art History 10/4 (1987), 455-467.
Muñoz González, María Jesús. El mercado español de pinturas en el siglo XVII, (Madrid: Caja Madrid, 2008).
Ordenanças de Seuilla ... : recopilacion de las ordenanças de la muy noble y muy leal cibdad de Seuilla : de todas las leyes y ordenamientos antiguos y modernos, cartas y prouisiones reales ... (Sevilla: Andrés Grande, 1632).
Pérez Sánchez, Alfonso. The Artistic Milieu in Seville during the First Third of the Seventeenth Century, in Zurbarán (New York: Met Museum, 1987), 37-52.
Prak, Maarten. "Painters, Guilds and the Art Market in the Dutch Golden Age," in Epstein, S.R. and Maarten Prak, eds., Guilds, Innovation and the European Economy, 1400-1800 (Cambridge: Cambridge University Press, 2010), 167-168.
Quiles, Fernando. "Eppur si muove. La pintura sevillana después de la peste negra (1650-1655) in Anuario del Departamento de Historia y Teoría del Arte, 21 (2009), 193-204.
Quiles, Fernando. "Resurrección de una escuela. La peste de 1649 y el quiebro en la evolución de la pintura sevillana" in Atrio, 12 (2006), 57-70.
Quintana Echevarria, Ivan A. Notas sobre el comercio artistico entre Sevilla y América en 1586, in Anales del Museo de América 8, 2000, 103-110.
Stols, Eddy. La colonia flamenca de Sevilla y el comercio de los Países Bajos españoles en la primera mitad del siglo XVII, in Anuario de Historia Económica y Social (1969), 365-381.
Van der Woude, Ad. The Volume and Value of Paintings in Holland at the Time of the Dutch Republic, in David Freedberg and Jan de Vries, eds., Art in History, History in Art (Santa Monica: Getty Center, 1991), 285-329.
Van Ginhoven, Sandra. Connecting Art Markets: Guilliam Forchondt's Dealership in Antwerp (c. 1632-78) and the Overseas Painting Trade (Leiden: Brill, 2017).
Van Miegroet, Hans and Neil de Marchi. Flemish Textile Trade and New Imagery in Colonial Mexico (1524-1646), in Jonathan Brown, ed., Painting for the Kingdoms (Mexico City: BanaMex, 2010), 878-923.
Vermeylen, Filip. Painting for the Market: Commercialization of Art in Antwerp's Golden Age (Turnhout: Brepols, 2003).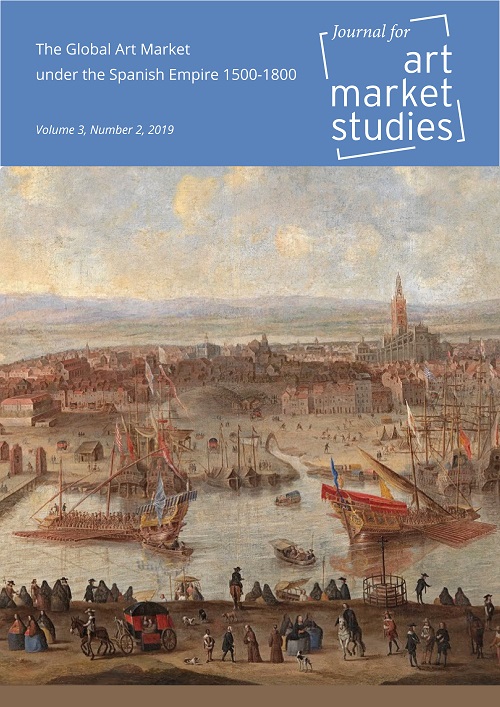 How to Cite
Álvarez de Toledo López-Herrera, F. (2019). Beyond Murillo: New Data-Driven Research on the Painting Market in Early Modern Seville. Journal for Art Market Studies, 3(2). https://doi.org/10.23690/jams.v3i2.94
License
Copyright (c) 2019 Felipe Álvarez de Toledo
This work is licensed under a Creative Commons Attribution-NonCommercial 4.0 International License.
Except where otherwise noted, the Journal for Art Market Studies is licensed under the Creative Commons Attribution-Non-commercial 4.0 International license (https://creativecommons.org/licenses/by-nc/4.0/). Articles can be read and shared if attribution is given to the original source (BY) and the use is not for commercial purposes (NC).